The Press Release issued by the member organizations of the Connecticut Black and Brown Students Union.
Hey Connecticut folks - if you work for in the US nonprofit sector, please take a moment and take the #RacetoLeadSurvey. It's completely confidential and will contribute important data to the @BldingMovement Project.
BMP
@BldingMovement
The #RacetoLeadSurvey is short, confidential and open to anyone working for $ in the US NP sector. Participants are contributing to the largest data set on #race and #leadership in #nonprofits and will help inform the next round of #RacetoLead reports!
Today the @Perrinfamilyfdn team is attending the co-hosted funders briefing with @katalcenter, @TowFdn, and @cfgnh.
Twitter feed video.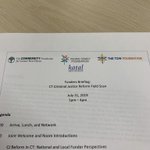 Load More...